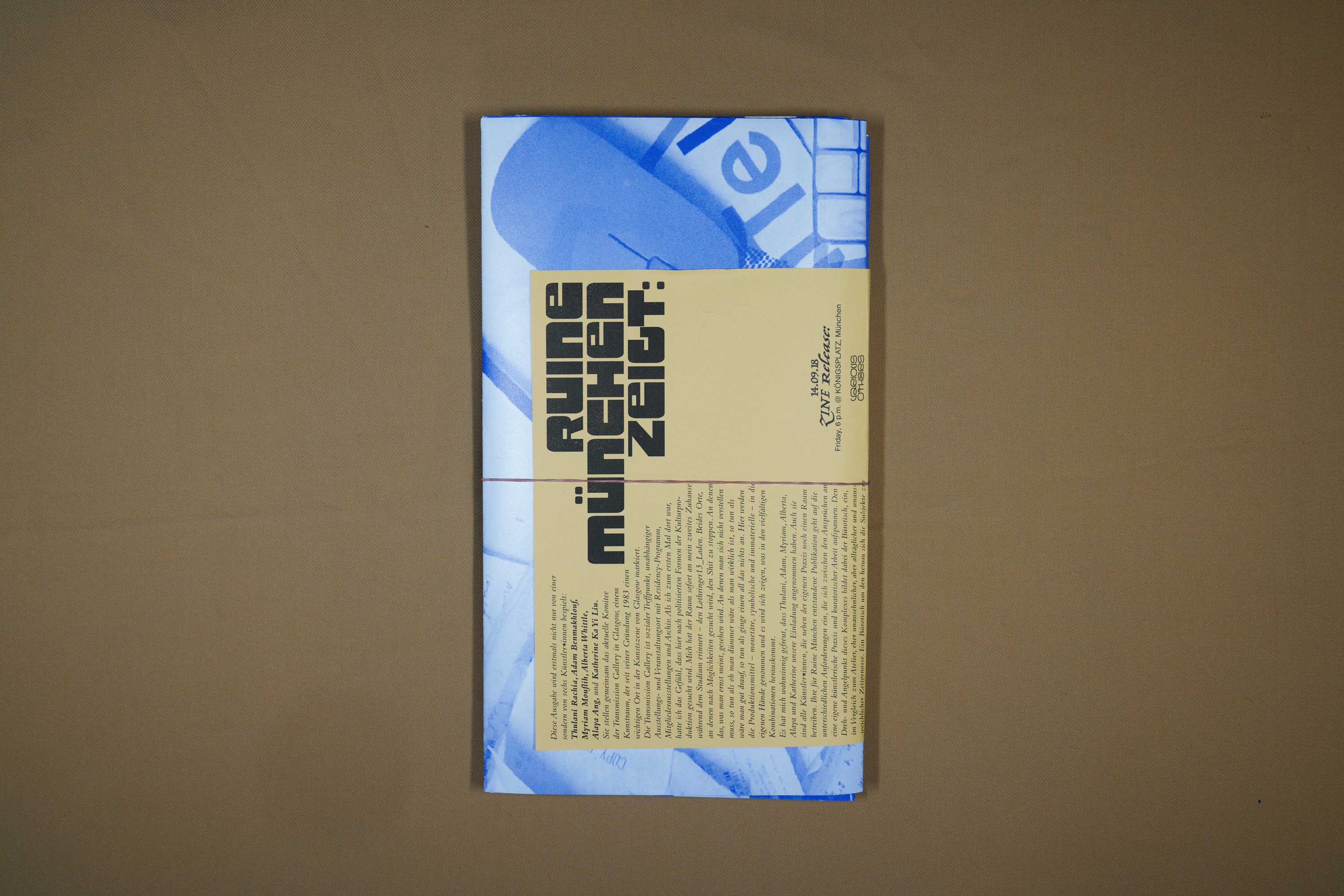 The Phone is the Keyhole; The Penpot, the Heart.

Transmission Gallery

,

2018

(Ruine München)
Transmission Gallery has existed since 1983 and it is managed and programmed by a voluntary committee of six people, each of whom joins successively and may serve for a maximum of two years. For Ruine München the current commitee (Thulani Rachia, Adam Benmakhlouf, Myriam Mouflih, Alberta Whittle, Alaya Ang and Katherine Ka Yi Liu) developed a mapping of their space trying to include all their current changes, reflections and workflows using the principles of painterly abstraction as a means of institutional reflection and critique.
Ruine München is an independent/artist-run/not-for-profit exhibition series based in Munich and takes place at least four times per year on various venues. Instead of maintaining a permanent exhibition space we offer respectively one artist a budget for the production of a publication and a corresponding release event. We think of Ruine München as a platform to showcase artistic positions that are not (or to a lesser extent) object-oriented, like text production, research-based and performative practices. Ruine München is being operated autonomously but dependent on voluntary work, the distribution of its publications and the support of the Cultural Department of the City of Munich. Ruine München is run by Jan Erbelding, Johanna Gonschorek, Leo Heinik and Maria VMier.
This publication is printed on two large folded sheets of paper, 4c digital print, each 238 x 65.8 cm,
ISBN: 978-3-947250-17-2
1st Edition of 50, English
* According to the §19 UStG we are not required to charge German sales tax (small business) / Keine Ausweisung der Mehrwertsteuer gemäß §19 UStG (Kleinunternehmer)