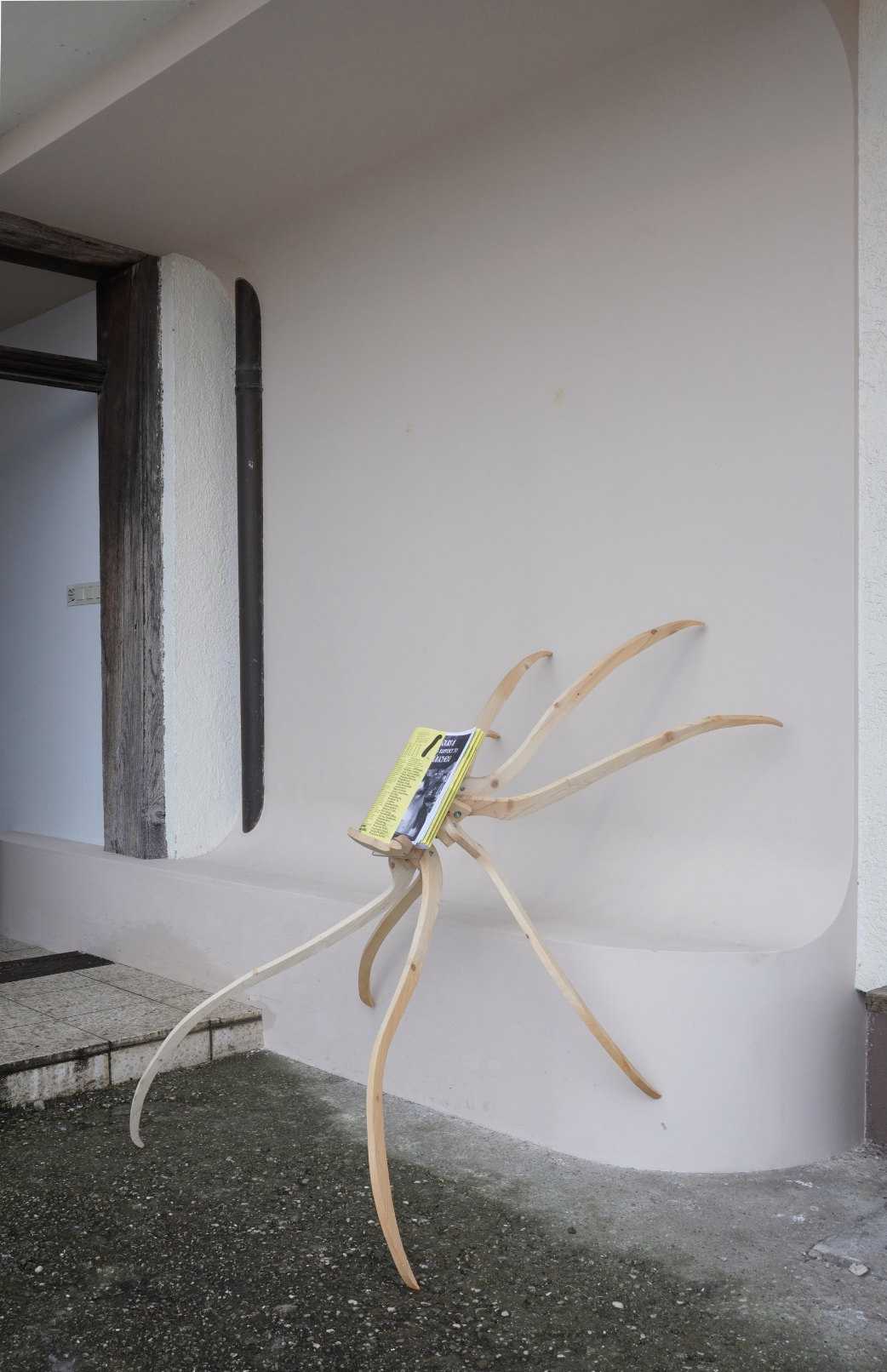 Ruine München zeigt: ihren Förderverein

Alexandra Maria Toth, Max Grau, Stefanie Hammann, Paulina Nolte, Kristina Schmidt, Stephan Dillemuth, Rachel Fäth, Olaf Nicolai, Lennart Boyd Schürmann, Philipp Gufler, Jonas von Ostrowski, Publikum, Jeannine Große, Stephanie Weber, Justin Lieberman, Natalie Brück, Elke Dreier

,

2022

(Ruine München)
Ruine hat jetzt keinen Förderverein, wie ein großes Museum beispielsweise einen Förderverein hat, aber Ruine ist ja auch eine andere Art Ruine, als ein so großes Museum es ist. Für diese Ruine hier gibt es ein Ruine-Abo und seit den vier Jahren der Ruine-Existenz von Beginn an treue Ruine-Abonnent:innen. Zurzeit sind 18 Abos aktiv, insgesamt waren es bisher um die 30 abgeschlossene Ruine-Abos. Den Abonnent:innen werden die Ruine-Publikationen free house zugeschickt, für 40 Euro/4 Ausgaben. Falls jemand noch schnell ein Abo abschließen möchte: Alle Einnahmen fließen komplett in die nächsten Ruinen. Honorare, Druck- und Produktionskosten. Support your local Ruine! Ruine zeigt also für diese Ruine ihren Förderverein in Ausschnitten. Vielen Dank, liebster Förderverein der Ruinen!
Kommt doch vorbei, am Samstag den 11. Dezember zu Lucky– lucky you & lucky me, in Billerberg bei Inning am Ammersee. Es gibt die neue Ruine dort und heiße und kältere Getränke und Marshmellows zum überm Feuer grillen. Wenn wir dann alle da bei -3°C im Schneematsch stehen, lesen wir Ruinees außerdem (vielleicht) aus unserem neuen Ruine-Text, in dem sich die Ruine als Ruine-Ich versucht zu finden. Hallo, liebe Ruine, Ruine, die ich bin.
xoxo
Ruine
Ruine München is a nomadic artist-run space with publication series. Ruine appears about four times a year at different more or less public places. We understand Ruine as a platform for artistic modes of presentation that are not, or to a lesser extent, object-oriented, be it enactment, roleplay, performance or reading. Ruine München thus offers artists working with ephemeral live formats a solo show according to their very own parameters. For each Ruine a publication or edition is produced in a small run, accompanying the fluid format with an enduring element. Ruine is run by Maria VMier, Jan Erbelding and Leo Heinik.
cover: flyer, 16p. contributions Ruine Förderverein + 8p. new ruines and text Ruine on Ruine, indigo digital print and xerox, stapled, numbered, 21 x 29,7 cm
1st edition of 70, numbered
* According to the §19 UStG we are not required to charge German sales tax (small business) / Keine Ausweisung der Mehrwertsteuer gemäß §19 UStG (Kleinunternehmer)